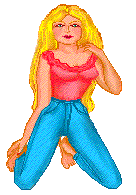 ---
ROMANCE
IS
LIKE
SORTING
SOCKS
MUMSLEIGH SINCLAIR © 7-23-99

An ode to those not yet in ortho shoes and white socks:

Before you come to have silver locks,
And tint your hair blue or purple,
Think of romance like sorting colorful socks ...
The happy days of Lavern and Shirley, or Urkle.

Tops run down, colors change, uneven number mocks;
We wage constant uncertainty dealing with socks.
Could mere mortals have something that would last?
Once romantic colors aren't truthfully colorfast!

If a "sock" holds its shape and the right hue,
Does that keep it more truly romantic for you?
Promises of Passionate Pink and Forever Blue ...
Read that guarantee wrong; maybe you did, too?

Socks, colorful socks, like romance for some of us
Still what is needed . . . yes, worth all this fuss?
We sort through Passionate Pink and True Blue again.
You catch me silly smiling on how we talk about them.

Here's to couples who believe in teamwork!
work in progress or regress...:)
The Dragoncairn on DRAGONHAIME
See how the out-takes of this verse The Albatross were used in The LoveBlender Out-takes
used to create verses by Rennie Lorca in The Love Blender from the Dragoncairn section of the DRAGONHAIME
Until Geocities gets it right again the above clickable should work...if not, the URL is:

http://www.geocities.com/SoHo/Cafe/1250/rennie.html
THE ALBATROSS
---
MUMSLEIGH SINCLAIR
---
---
MORE INSPIRATION
---
---

This page has been stumbled upon
times...just delete and back slowly away from your computer..:)

---